3 Reasons That Artificial Grass Withstands High Temperature In San Diego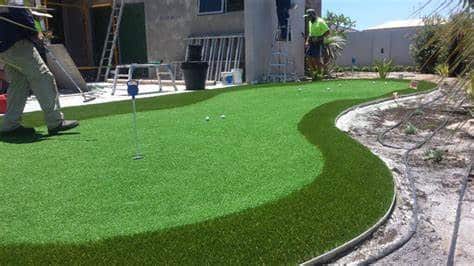 In the realm of landscaping and outdoor design, artificial grass has become a popular alternative to natural grass due to its numerous benefits. One of the key advantages is its ability to withstand high temperatures, making it an ideal choice for regions with scorching summers. But what exactly makes artificial grass so resilient in the face of extreme heat? Let's explore three reasons behind its remarkable ability to endure high temperatures.
High-Quality Materials And Construction
Artificial grass is crafted using a blend of advanced materials that are specifically engineered to handle tough weather conditions. One of the primary components is polyethylene, a thermoplastic polymer known for its durability and resistance to heat. The blades of artificial grass are meticulously designed to mimic the texture and appearance of natural grass, while also being capable of standing up to intense sunlight without fading or melting.
Moreover, the base layer of artificial grass is typically made from materials like latex or polyurethane, which can withstand high temperatures without deteriorating. The combination of these high-quality materials and precision construction ensures that artificial grass retains its structural integrity even in the hottest of climates.
UV Stabilization Technology
Exposure to the sun's ultraviolet (UV) rays can wreak havoc on various materials, causing them to degrade and lose their original color. However, manufacturers have incorporated UV stabilization technology into artificial grass production to counteract this effect. UV stabilizers are additives that are mixed with the raw materials during the manufacturing process. These additives create a protective barrier that shields the grass from the sun's harmful rays, preventing color fading, brittleness, and overall deterioration.
This technology is a game-changer in regions with high temperatures and intense sunlight. It ensures that artificial grass maintains its vibrant color and realistic appearance over an extended period, regardless of how hot it gets outside.
Efficient Drainage System
Artificial grass is designed with a well-engineered drainage system that allows for quick and efficient water runoff. This is especially important in hot climates where rain may be infrequent, and water conservation is a priority. The efficient drainage system prevents water from accumulating on the surface of the grass, which could otherwise result in puddles and prolonged moisture exposure.
Excess moisture in high temperatures can lead to various problems, including the growth of mold and mildew, which not only damages the grass but also poses health risks. By efficiently draining water, artificial grass reduces the chances of such issues arising, further contributing to its resilience in hot environments.

FAQs
Will Artificial Grass Melt In Extreme Heat?
High-quality artificial grass is designed to withstand high temperatures without melting. The use of heat-resistant materials and UV stabilization technology ensures that the grass retains its shape, color, and structural integrity even in scorching conditions.
Can I Walk On Artificial Grass During Hot Days?
Yes, you can walk on artificial grass during hot days without any concerns. The heat resistance properties of the grass blades prevent them from becoming excessively hot to the touch, making it comfortable for walking.
How Does Artificial Grass Compare To Natural Grass In High Temperatures?
Artificial grass has an upper hand in high temperatures due to its heat-resistant materials, UV protection, and efficient drainage system. Unlike natural grass, which can turn brown and dry out in extreme heat, artificial grass maintains its lush appearance and durability.
To accomplish it, you owe it to yourself. So that you can spend more time enjoying the summer, let artificial grass take care of maintaining your yard. Call (619) 332-1177 right away to schedule a free in-home design consultation with Artificial Grass Pros in San Diego.
Artificial Grass Can Help You Save Money
Artificial Grass Pros has a large range of synthetic turf to meet your needs! For added peace of mind, any turf installed by our trained professionals comes with a 15-year warranty. Request an estimate from Artificial Grass Pros today to get started or for more information!
Synthetic Turf
Golf Putting Greens
Playground Turf
Pet Turf
Shade Sails
Tree Well Surfacing
Playground Safety Surfacing
Applications
Turf Maintenance
Installations