5 Reasons That Artificial Grass Playground Safety Surfacing Is Safe For Kids In San Diego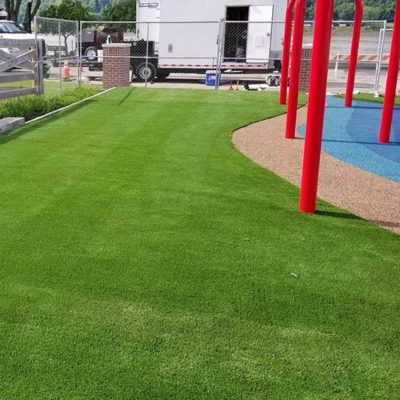 When it comes to creating a safe and enjoyable playground environment for children, choosing the right surfacing material is paramount. Traditional options like gravel, wood chips, or natural grass may have been popular in the past, but they come with their fair share of safety concerns. In recent years, artificial grass playground safety surfacing has gained traction as a preferred choice for numerous reasons. In this article, we'll explore five compelling reasons why artificial grass playground safety surfacing is safe for kids.
Consistent Shock Absorption
One of the primary safety considerations for playground surfaces is their ability to absorb shock and cushion falls. Artificial grass playground safety surfacing excels in this aspect. The surface is typically installed over a cushioned underlayer made from materials like rubber or foam. This underlayer provides consistent shock absorption, reducing the risk of injuries when children trip, fall, or engage in active play. With this added cushioning, artificial grass surfaces offer a softer landing compared to traditional options, making it safer for kids to enjoy their playtime.
Reduced Risk of Trips and Falls
Traditional playground surfaces like gravel or wood chips often have uneven or loose elements that can create tripping hazards. Artificial grass playground safety surfacing, on the other hand, provides a smooth and level surface, minimizing the risk of trips and falls. Additionally, the surface remains stable and even in various weather conditions, reducing the chances of accidents caused by slippery or muddy surfaces. This stability contributes to a safer play environment, allowing kids to run, jump, and play without unnecessary risks.
Exceptional Durability
Artificial grass playground safety surfacing is designed to withstand heavy foot traffic, extreme weather conditions, and continuous play. Its durable nature ensures that the surface maintains its safety features over time, unlike natural grass that can become uneven and worn out. This durability not only extends the lifespan of the playground but also ensures a consistent level of safety for children, making it an excellent long-term investment for schools, parks, and recreational areas.
Non-Toxic and Allergen-Free
Safety extends beyond physical injuries; it also encompasses health concerns. Artificial grass playground safety surfacing is crafted from non-toxic materials that are safe for children. Unlike natural grass, it doesn't require pesticides or fertilizers, eliminating the risk of exposure to harmful chemicals. Additionally, artificial grass is allergen-free, making it a suitable choice for children with allergies or sensitivities. Parents and caregivers can have peace of mind knowing that their children are playing on a surface that won't trigger allergies or pose health risks.
Low Maintenance and Hygienic
Maintaining playground surfaces can be a challenge, especially when they require frequent cleaning and upkeep. Artificial grass playground safety surfacing is incredibly low-maintenance and easy to clean. Unlike natural grass that can harbor pests or become a breeding ground for bacteria, artificial grass remains hygienic and can be quickly sanitized when needed. This ease of maintenance ensures that the playground stays clean and safe for children to enjoy without the hassle of constant upkeep.

FAQs
Is Artificial Grass Playground Safety Surfacing Suitable For All Climates?
Yes, artificial grass playground safety surfacing is designed to withstand a variety of weather conditions, including extreme heat, cold, and rain. It maintains its safety features and appearance throughout the year.
Can Artificial Grass Playground Safety Surfacing Be Customized To Fit Different Playground Sizes And Shapes?
Absolutely! Artificial grass playground safety surfacing can be customized to fit the specific dimensions and layout of your playground. It offers flexibility in design and can be tailored to your unique requirements.
How Does Artificial Grass Compare In Cost To Traditional Playground Surfaces?
While the initial cost of artificial grass playground safety surfacing may be higher than some traditional options, it offers long-term cost savings due to its durability and low maintenance requirements. It is often considered a cost-effective investment for playgrounds.
To accomplish it, you owe it to yourself. So that you can spend more time enjoying the summer, let artificial grass take care of maintaining your yard. Call (619) 332-1177 right away to schedule a free in-home design consultation with Artificial Grass Pros in San Diego.
Artificial Grass Can Help You Save Money
Artificial Grass Pros has a large range of synthetic turf to meet your needs! For added peace of mind, any turf installed by our trained professionals comes with a 15-year warranty. Request an estimate from Artificial Grass Pros today to get started or for more information!
Synthetic Turf
Golf Putting Greens
Playground Turf
Pet Turf
Shade Sails
Tree Well Surfacing
Playground Safety Surfacing
Applications
Turf Maintenance
Installations