Is Artificial Grass Safe to Play On In San Diego?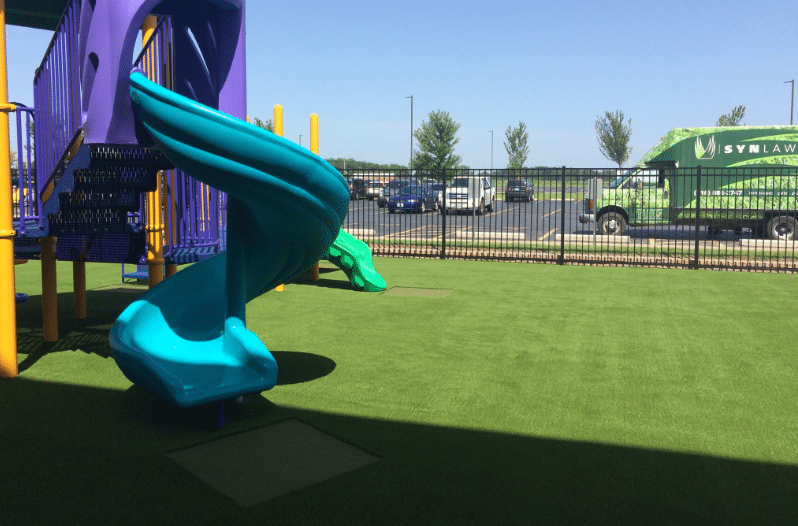 Whether you have toddlers, kids, or pets wandering around your garden, you want to make sure they are safe. If you're thinking, "How safe is artificial grass?" don't be concerned. Artificial grass is absolutely safe and is controlled by strict safety requirements. In fact, there are various places where artificial grass has advantages over natural grass, making it a better alternative to have placed for your family: 
Rain or sunny outdoor play should be encouraged. It is a good source of fresh air and Vitamin D and has been shown to boost physical and mental well-being. Patchy, uneven grass, on the other hand, can rapidly put a stop to this and bring a play session to a halt, literally. 
Artificial grass is a thick, continuous coat of lifelike grass that, when combined with the underlay, provides much-needed cushioning when it's most needed. Our first goal is artificial grass safety! 
Artificial grass is less slick when wet since it does not require soil. This is important both during the summer months, when youngsters may be getting in and out of paddling pools, and during the autumn and winter months when there is more rain. Activities should not be halted due to a wet surface, and fake grass can be used all year. 
Artificial Grass Is Simple To Clean, Making Pet Care A Breeze 
If you're concerned about whether fake grass is safe for pets, be assured that the same thoroughly verified high standards that protect your youngsters also protect your four-legged pals. 
In fact, artificial grass is the ideal choice for pet-owning families; in addition to our top-of-the-line dog turf, our ordinary grass can be cleaned as needed, giving you complete control over how clean you want your garden to be. When your pets and children share the same space, this is the ideal solution. 
If you're still unsure whether artificial grass is perfect for your house, contact Artificial Grass Pros at (619) 332-1177  now, and we'll be pleased to provide you with a consultation! You may also read our artificial grass reviews to discover what our customers have to say about our products.
Artificial Grass Can Help You Save Money
Artificial Grass Pros has a large range of synthetic turf to meet your needs! For added peace of mind, any turf installed by our trained professionals comes with a 15-year warranty. Request an estimate from Artificial Grass Pros today to get started or for more information!