5 Health Benefits Of Playing On Backyard Putting Greens In San Diego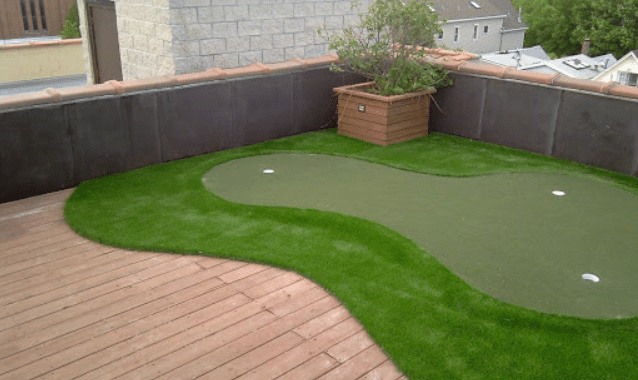 Artificial grass has its benefits of unique landscapes and low-maintenance yards, but apart from this, it is also the ideal material for backyard putting greens. It is one of the most popular amenities for the backyard in recent years. Artificial Grass Pros will provide you with beautiful Tree Wall Surfacing San Diego at an affordable rate. It provides you with a beautiful place to have fun right in the comfort of your home. Besides that, it also offers tremendous perks for the overall health of the whole family as well.
Advantages Of Playing On Backyard Putting Greens
Everyone should prioritize their health and do whatever it takes to be in the best shape. However, regularly going to the gym or other outdoor activities can be tiring, especially for people that live far away from such places. Therefore, installing a synthetic putting green can make it easier for people to enjoy outdoor activities without going somewhere. 
Stimulates The Brain
Playing regular golf is one of the best ways to ensure that your brain receives a steady, healthy supply of blood. Recent studies have concluded that it can help slow down or even prevent Alzheimer's disease. In addition to this, golf is a game of cerebral. That means that you will have to think about your strategies before executing your shot. You will have to think about various factors such as the angle of your swing, a roll of the green, etc. All of this activates your cognitive skills and enables positive use of your brain.
Reduces Stress
Getting regular exercise reduces the level of stress in the human body. Artificial Grass Pros will create a calm and soothing environment by installing artificial grass in your background for you to enjoy the fresh air.
Improves Heart Health
Motions of golf such as walking and swinging are the primary forms of physical exercise. Such activities help increase blood flow and improve the heart rate. With regular practice, it will contribute to a healthier heart. It also reduces the risk of diabetes and stroke, low blood pressure, and low cholesterol levels.
Encourages Weight Loss
It is also one of the best ways to encourage weight loss. Playing golf, along with a healthy, can go a long way in enabling a healthier lifestyle.
Enjoy Better Health With Artificial Grass
Artificial Grass Pros is here to help you out with the type and style of synthetic turf landscape that you require. The synthetic grass is customizable, and you can cut it into any shape and size. Therefore, we will be able to accommodate your requests. Make sure to call us right away at (619) 332-1177 to learn more about synthetic turf. Our representatives will provide you with more information on Tree Wall Surfacing San Diego.
To get your free artificial grass estimate today, or if you have any questions about our great service, contact the professionals at the top artificial grass and synthetic turf installation company in San Diego.