Artificial Grass Pros Artificial Turf Playgrounds Promote Safe Play And Exercise For Happy, Healthy Kids In San Diego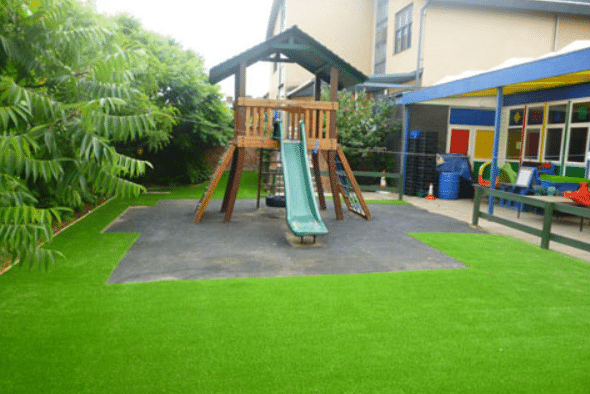 In congested urban environments, it may not be easy for children to find safe, healthy places to play and get the exercise that their growing bodies need. Even where space is available, playgrounds or parks might not exist because the cost of maintaining grass can be massive. That's where we come in!
We manufacture synthetic turf systems that give city kids beautiful, green play environments that they desire. 
With the rise in childhood obesity rates and the incidence of related health problems such as diabetes, it's time to give kids an alternative to an all-indoor, overly sedentary lifestyle. 
An active child needs somewhere to play, and that place needs to be a safe and healthy one. 
The International Playground Equipment Manufacturers Association (IPEMA) has tested our playground turf and has certified that it will mitigate the effects of falls from as high as 10 feet.
Our playground system incorporates an underlayment of protective padding that won't become compacted and always stays anchored in place. Parents, teachers, coaches, and playground supervisors can rest assured that kids can play safely on high equipment like monkey bars. And our turf is also ADA compliant, making it easy for wheelchairs and other assistive devices.
Our synthetic turf doesn't cause allergies, won't harbor insects or mold, and won't develop dangerous bare spots or divots, even in extreme weather conditions. The turf will drain away rainwater faster than nature can pour it down – up to an astonishing 30 inches per hour! Our turf won't become soggy or slippery, so it always offers reliable footing.
Of course, even though high-quality, our turf eventually shows signs of wear in high-traffic areas, but that doesn't necessitate an expensive replacement for a whole playground surface. 
Unlike other fake turf products, our artificial playground grass has a "thatch zone" that eliminates the need for crumb rubber infill, those small granules of rubber that you may see used in many brands of turf. These bits of recycled tires often stick to shoes, clothes, and skin and can be tracked everywhere by kids.
Artificial Grass Pros has long been a leading innovator in the synthetic grass industry nationwide, and we're also a leading distributor in the San Diego artificial grass market. We put our years of experience in the artificial turf business into making products that are more natural-looking, more environmentally friendly, and more durable than so many other brands of fake grass. For a playground that kids and those who love them will both appreciate, choose Artificial Grass Pros synthetic turf.
At Artificial Grass Pros, you'll find all of your best choices. We will assist you with landscaping options in addition to providing world-class artificial grass goods. For a free estimate on your idea, call (619) 332-1177 right now!